Welcome to the Page of Gastroenterology!
Gastroenterology has operated as a non-independent department for 20 years as part of the Department of Internal Medicine. From 15 November, 2021 it continues its operation as an independent organizational unit called Gastroenterology Clinic. It means a very modern, a pioneering form of patient care in Hungary. The number of the gastroenterology patients are increasing, the examinations done by medical instruments are evolving and the demands on them are growing.
The Gastroenterology Clinic is responsible for the treatment of patients with various diseases of the gastrointestinal tract, pancreas, bile ducts and liver accordingly to the progressivity levels of II and III. Upper and lower endoscopic examinations, endoscopic retrograde cholangiopancreatography, stent insertions, endoscopic ultrasound, small bowel endoscopy, and capsule endoscopy are also done here. Biological therapies are also available for those patients whose bodies do not respond to traditional treatments. The clinic also takes part in the colonoscopy program which is currently being implemented withing the framework of the EFOP-1.8.1-VEKOP-15-2016-00001 complex public health screening priority project. The country's largest patient center and two European reference centers are accredited for the treatment of acute and chronic liver diseases (EF-CLIF,, Chronic Liver Failure Centre, 2016 and ERN-RARE LIVER, European Reference Networks, Rare Liver Diseases Centre, 2019). We take part in the care of patients with gastroenterological and hepatological problems, too in the post-COVID Specialty Clinic Networks. 
The Gastroenterology Clinic continues its operation in two locations.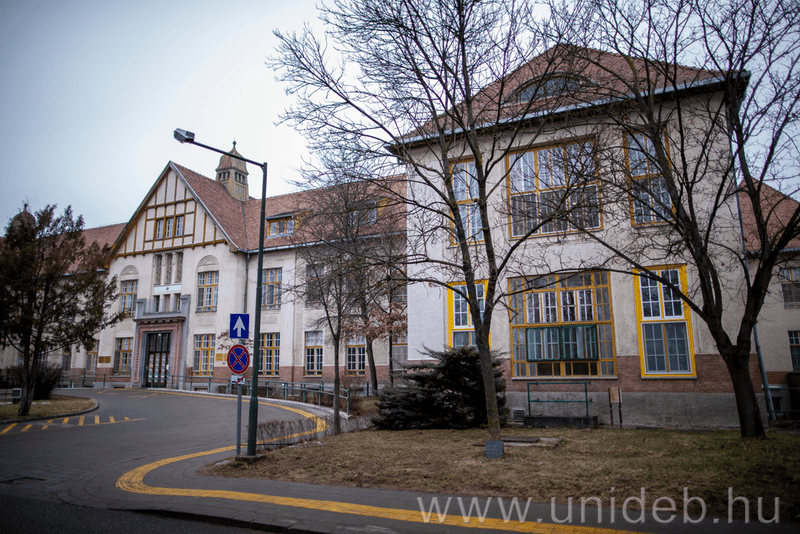 The inpatient ward with 55 beds is located in the Building of Emergency and Gastroenterology at Nagyerdei Campus with the hepatology specialist consultations and liver elastography laboratory. Our Post-COVID (Gastroenterological) specialist consultations are also take place here.
Emergency and Gastroenterology Building
---
The gastroenterological outpatient care, the biological therapy outpatient unit and the endoscopic examinations of the upper and lower gastrointestinal tract and bial ducts are still take place in the Building B of the Department of Internal Medicine.

Building B of the Department of Internal Medicine, entry
Prof. Dr. Mária Papp
clinic director
Last update:
2022. 03. 08. 20:20